The Northeast Caller School is located in the heart of historic Sturbridge, Massachusetts.

Host Hotel – Cedar Lake

Sturbridge Host Hotel Lobby
Breakout educational sessions are held during the daytime at the Sturbridge Host Hotel and Conference Center, 366 Main Street, Sturbridge, MA. With a get away to Cedar Lake,  rustic accommodations, resort-style amenities, a private beach and business-centric services, The Host Hotel was the right decision to host both our school, and room accommodations for our students.
Special lodging rates available for Northeast Caller School:
You can find more information on their facility at: www.sturbridgehosthotel.com or call: (508) 347-7393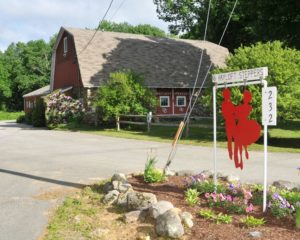 The Northeast Caller School hosts evening dances for the duration of the school at the Hayloft Steppers Square Dance Barn, 232 Podunk Road, Sturbridge, MA. The Hayloft Steppers Square Dance club own this facility, and it's custom tailored with the square dancer in mind! With a beautiful floating hardwood floor, full kitchen, and dining area, dancers will enjoy the students calling at night!
Visit their website for more information at: www.hayloftsteppers.org
While at the school, take advantage of New England's Fall Foliage Season. The colors are breathtaking and the view is spectacular. Also, Sturbridge is home of the famous "Old Sturbridge Village".  One of the most popular visitor sites in the area. Come and see some of the early heritage history of New England.