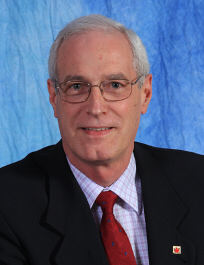 Barry lives in Toronto, Ontario with his wife Pam. They started dancing in 1973, just two weeks after the birth of their youngest son. Barry started calling in 1984 when a local C2 tape group asked for help with some things they couldn't find on teaching tapes. He figured if he was going to write material to help them, he might as well call it. Since then he has expanded in both directions and now calls from Basic through C4.
As a dancer, Barry loves choreography that is smooth and flowing yet also provides some mental stimulation and the occasional surprise. When calling, he strives to create this effect through smooth danceable choreography flavoured with a bit of unusual positioning to create a dance experience containing both physical and mental elements.
Barry changed careers in September 2007. He retired from IBM after 30 years and is now a full-time caller and able to travel more than he has in the past. He's called at weekends and conventions in 8 provinces, DC, and 26 states, as well as Germany, Sweden, Denmark, Japan, England, the Czech Republic, Taipei, Beijing, and New Zealand. He's also a staff caller with the Academy for Advanced and Challenge Enthusiasts (AACE).
In 2002 Barry became interested in coaching new callers and started by volunteering as a dance angel at a local school. Since then he has worked as a Teaching Assistant and Full Coach at many well known schools including the Sturbridge school, Northeast Callers School, Pocono Callers School, Alquire School, the Canadian Callers College, and several GCA schools. Barry has also done numerous caller clinics and presentations at CALLERLAB conventions. He has written extensively with articles appearing in publications such as Zip Coder, American Square Dance Magazine, The Call Sheet, the CALLERLAB DIRECTION, and T&D Topics.
Barry is a member of CALLERLAB, the Gay Callers Association, and the Toronto and District Square and Round Dance Association. Within CALLERLAB he is a member of the Board of Governors, served on the Executive Committee (2011-2017), and is a Past Chairman of the Board (2013-2015).